Middle Grades IB Expansion

Jefferson County is seeking the interest level of students who wish to apply to the middle grades program expansion program of our current IB school. The proposed expansion of the school will include the addition of grades 6th, 7th, and 8th. Admission status will be honored for all applicants who submitted a letter of commitment in the spring of 2015. These applicants will be contacted to confirm their intent to participate in the middle grades program for 2016-2017. All upcoming 6th, 7th, and 8th grade students interested in attending the middle grades program may access an application through a link on the homepage of the Jefferson County website. The deadline for submitting applications is May 20, 2016. Students will be notified regarding acceptance status by June 17, 2016.
If you have questions you may contact Betsy Sanchez at bsanchez@jefcoed.com.
MIDDLE GRADES EXPANSION APPLICATION (ENGLISH)

MIDDLE GRADES EXPANSION APPLICATION (SPANISH)
---
Thanks to everyone who participated in our System Calendar Surveys! Option A was selected and board approved Thursday, February 25, 2016.

DOWNLOAD THE 2016-2017 SYSTEM CALENDAR
English | Spanish


---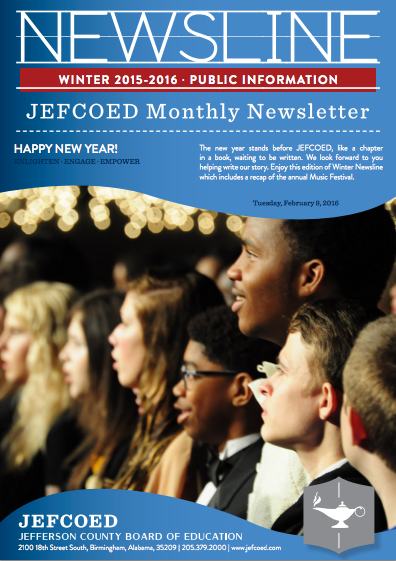 CLICK TO READ WINTER'S SPECIAL EDITION OF NEWSLINE